Ted Bishop served as the 38th President of the PGA of America and many viewed Bishop's two-year term as PGA President in 2013-14 as one of the most eventful in the 100-year history of the association. His unceremonious removal from the office after a gaffe on social media marred Bishop's legacy and prompted him to release his new book, Unfriended, published by Classics of Golf. Recently, Bishop went in-depth on his controversial removal, the aftermath that followed and his game plan for bringing more Millennials into the game of golf in a new article with Golf Content Network.
MW: You were pushed out as President of the PGA of America before your term ended. Any regrets on what you did to prompt others to push for your ouster?
TB: If I could relive my term as the 38th President of the PGA of America, I would do absolutely nothing any differently- other than I would not have called Ian Poulter "a lil girl" for his remarks about Tom Watson and Nick Faldo, two friends of mine. I do not apologize for being critical of what Poulter said about Tom and Nick. I do apologize for the choice of my words.
MW: Has time healed wounds or are you still bitter at how things ended?
TB: Honestly, I was never bitter. It was disappointing to me given my voluntary service and sacrifice to the PGA that it didn't rally around me and help through my crisis. Anyone who knows me understands I have always been a champion for women in golf. That's been true in the communities that I've lived in, my home state of Indiana and certainly at a national level with the things I did to promote women in my time as a PGA leader. I even criticized the R&A for its discrimination of women at Open Championship clubs while I was PGA President. But, I seemed to wipe all of that out with about 30 seconds of stupidity on social media.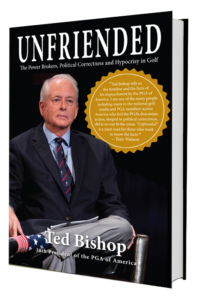 $27.50Add to cart
UNFRIENDED: Power Brokers, Political Correctness & Hypocrisy In Golf By Ted Bishop, 38th President of the PGA, released June 2016, takes you on a wild ride and get an insiders look at golf's biggest personalities. Unfriended exposes many things about many people and it is a book you will read from cover to cover!