On October 14th, I played in a Hickory Tournament at historic Spring Lake Golf Club. We were all treated to a day of perfect Jersey shore weather, a well-groomed golf course and a sporting competition. As part of the convivial dinner which followed the golf, I had prepared some remarks and spoke about the great man and golf course designer of Spring Lake, George Thomas.
At the time of his selection in 1910, George Thomas had very few credentials in the field of professional golf architecture. Yes, he was born into an immensely well-connected Philadelphia family and was a very wealthy individual. Yes, he was a golf enthusiast, a scratch player, a known pioneer in aviation and also known for his many other sport and physical activities. But he only designed two golf courses (one a 9-hole) and, it's worth noting that, because of his social status, George Thomas did not ask or receive payment for his services.
To help him succeed, George Thomas paid for and brought George Duncan, a Scottish professional golfer from Aberdeen to the States to assist him with the Spring Lake project. Like Mr. Thomas, George Duncan's credentials were limited as he had no credited experience in golf course design and by 1910 he had just three tournament wins on tour.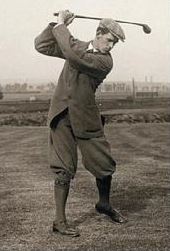 George Duncan C. 1907.
Image via Wikipedia
The Spring Lake course was completed and open for play in 1911. However, in a brief six-year period the members expanded the clubhouse and reacting to the expansion and growth of golf throughout the region, particularly Merion and Pine Valley, the club retained the services of A.W. Tillinghast to oversee what was described as a "needed and substantial" updating of the still young course.
George Thomas was not considered for this work since by 1917, Mr. Thomas was serving his country with distinction and honor in World War I as a Captain (hence the nickname) and pilot in the Army Aviation Corp.
It is very interesting and revealing, I think, that the course routing designed by the unheralded but later to be famous George Thomas and George Duncan was unchanged by A.W. Tillinghast who was known, at this point in time, as an outstanding and famous golf architect.
Further, I think the trustees of Spring Lake would have done well if they had waited for the return of George Thomas, who resigned his commission from the army and returned from war ridden France in 1919, to have been give the "update" assignment. Instead, he left rather quickly for Beverly Hills California and became the great architect that we all know through his monumental design and development work at many of the most revered tournament venues in today's America.
The impressive sidebar to this story is that George Duncan, the unknown Scottish golfer who assisted George Thomas with the Spring Lake design in 1910, later became great, famous and revered in the United Kingdom and the professional world of golf when he won the Open Championship of 1920 at Royal Cinque Ports, became a selected and noted player in the first three Ryder Cups of 1927, 1929 and 1931 and was also captain of the first U.K. Ryder Cup team which took the cup at Moortown in 1929.
It is unfortunate, I think, that the Messrs. Thomas and Duncan course design did not survive untouched, even though the renovations were by the hand of the great and fabulous A.W. Tillinghast.