Donald Ross Society Special Offer
Classics of Golf is proud to offer all Donald Ross Society Members, a very special discount on our latest triumph, The Life and Times of Donald Ross by Chris Buie.
Click here to learn more about the book.
Simply enter the discount code provided by the Society at checkout and receive a $20 discount off the cover price of $75.00 for the regular edition version.
We are also offering a slipcase gold stamped with scripted Donald Ross Society and logo available for members only for $70.00. This is a $50 discount off the cover price for members. The book will be available for shipping April 15th.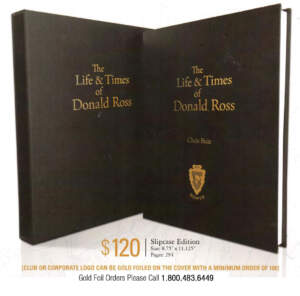 Enter the discount code at checkout for a $50 discount
$120.00Read more
During the early years of the 20th Century golf became a fundamental part of the American Dream. Perhaps more than any other individual, Donald Ross helped to establish the sport in his new country.
His place in history has essentially been that of a prolific architect who created some of the finest examples of the form. However, the true extent of his achievements go well beyond the consensus view.
With surpassing style and insight, The Life & Times of Donald Ross reconfigures his place in history and establishes the man as a notable figure in the broader field of American culture.
Click here to learn more about the book.
More exclusive Donald Ross offers will be announced exclusive to Society members