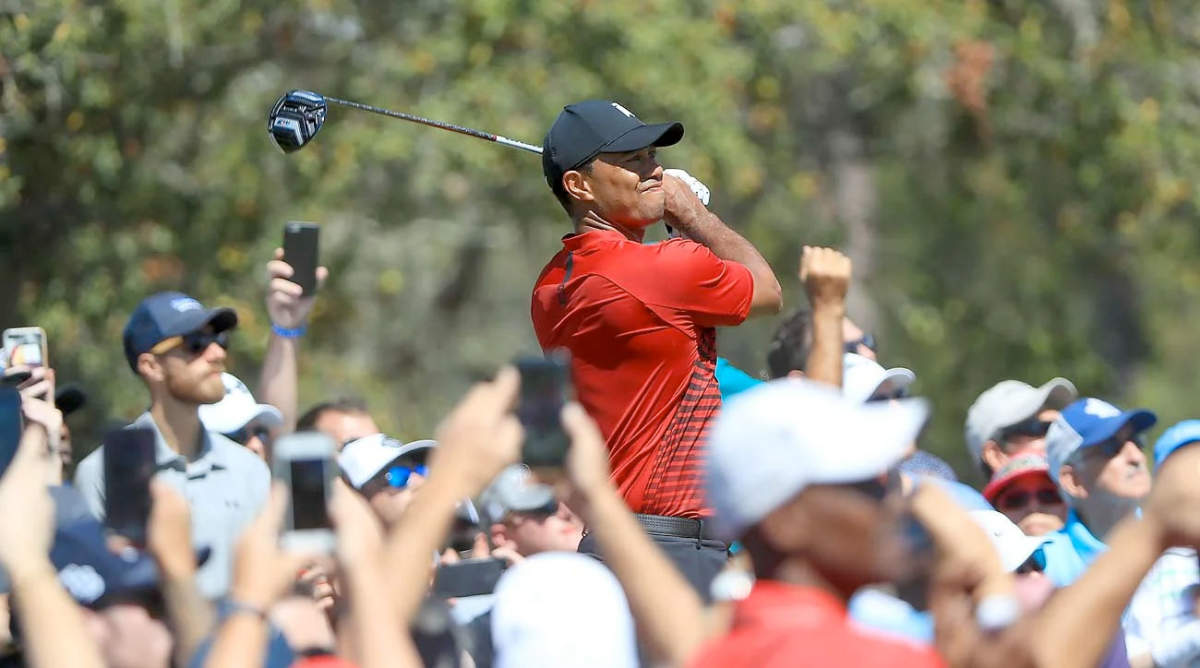 Flush from making a 43 foot putt on 17 to get to 9 under, with Paul Casey already in the clubhouse at 10 under, Tiger faced number 18 at Copperhead, a hole I have played many times.
Tight fairway, especially right, with four bunkers on the right starting at 302 from the tee, with the hole playing 443 yards that Sunday, and thick rough on the left of this tight fairway.
Many players were hitting a three wood (metal) off the tee leaving themselves about 150 to the pin, a 9 iron or wedge for most tour players. The pin was back right and you have to go up a pretty big mound to get to the hole from below the hole as Patrick Reed found out the hard way, hitting his 40 foot putt way short and having the ball come back to his feet for a three-putt bogey to fall back to nine under and lose his share of the lead with Casey.
So, to get it close to that back right pin, you had to be in the fairway because from the thick rough on the left or the right side bunkers at Copperhead on 18, there would be no way to get the ball anywhere near that back right pin sitting up on a mound, like an island unto itself.
So what did Tiger do on the tee, one stroke down needing birdie?
As Bob Harig, Senior Writer for ESPN brilliantly wrote, here is the story at: http://www.espn.com/golf/story/_/id/22725994/tiger-woods-finishes-tied-second-valspar-championship
Woods hit a 2-iron off the tee instead of going with a driver or a 3-wood and said he did not want to bring the right rough into play, and figured he was better off having a long shot from the fairway.
"If I'm going to squeeze it in, I want to cut it," he said. "I didn't feel comfortable with that. If anything, that 2-iron [off the tee] I could have hit it flatter and hotter, but, hey, I'm in the fairway. I've got a shot at this thing."
Tiger's excellent 258 yard two iron left him 185 from the pin, the farthest distance to the flag of any of the 72 players on Sunday at Valspar.  Tiger hit his second shot to the middle of the green, a little short of the flag and had 39 feet to the pin.  He left the putt a few feet short of the hole, and tied for second.
When Tiger returned to competitive golf in the past year, I said that if he played golf consistent with his new (current) skills and abilities, he would do great, but if he tried things he could do fifteen years ago, he'd have a lot of double bogeys and not win again or even contend on the tour.
Fifteen years ago, if Tiger was one back of the lead going into 18, with a par four, 443 yards long, and a pin was on a mound at the back right of the green, he probably would have hit a three wood/metal or maybe even driver.  He probably would have hit the fairway, and would have had a wedge going into the tight pin.  Like he's done so many times, even at Augusta, he probably would have gone after that back right pin.  And the Tiger of old would probably have drilled the wedge just past the hole on the fly, and it backed up to within inches of the cup.  Birdie.
But, what about today?
Today is different.  Steve Stricker in his first Senior Tour win at the Cologuard Classic in Tucson, just a few weeks back.  He was faced with exactly the same situation on 18 at Cologuard as Tiger faced at 18 at Valspar.  As Associated Press reported at: https://www.washingtonpost.com/sports/golf/steve-stricker-wins-in-tucson-for-first-champions-title/2018/03/04/840e596c-200c-11e8-946c-9420060cb7bd_story.html?utm_term=.ab754754b3a5
Stricker came through Sunday in the Cologuard Classic a year after hitting left into the water on 18 to blow a chance for a victory in his senior debut, and a day after another 3-wood drive rolled into the water in a closing double bogey.
"I was fighting it," said Stricker, in tears after the victory. "You have those demons in your head and I was fully aware of what I had to do on 18 as I was playing today. I wanted to get enough of a lead where I could do something different out there. It's just a tough driving hole for me and it is for everybody. A couple guys in my group hit it in the water today. If you pull it a little bit you run through the fairway, and if you push it a little bit you hit it in the water. It's a challenging hole and somehow I just guided it out there and got it in the fairway."
Today, Tiger trusts his two iron to go where he wants.  He does not yet trust his three wood/metal.  So, he played within himself and hit the two iron which left him, as Nick Teodosio, PGA says "Two good chances for birdie…He could hit a great iron shot and get it close and make birdie, or he could make a 30 or 40 foot putt for birdie."
So, when Tiger gets comfortable with his three wood/metal, watch out.  I don't see many areas where Tiger needs to improve, but this is one of them.  Clearly, he is playing with his current game, not the game he had a decade ago, and that is one of the reasons Tiger is making a great run up the tournament leaderboard –  not to mention his 129.2 swing speed with his driver, tops at the Valspar tournament.
About the Author
Herb Rubenstein is a PGA Apprentice at Golf Pro Delivered in Port Washington, NY, www.golfgpd.com. He is the Executive Director of the Brooklyn Golf Alliance, a nonprofit dedicated to expanding the game of golf.  He is writing a golf instruction book with PGA Pro Peter Gyscek, the Men's and Women's Golf Coach at Washington and Lee University.
His email address is herb@sbizgroup.com and he can be reached at 303 910.7961. Photo
Credit, Dawn Mercer, PGA, Director of Instruction, Innisbrook Spa and Golf Resort